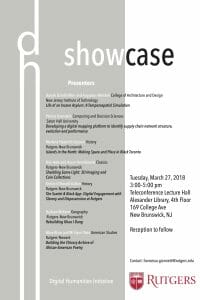 Faculty and graduate students present short talks on works in progress, experiments, as well as completed research bringing together humanistic inquiry and digital technology.
Program
Penina Orenstein, Department of Computing and Decision Sciences, Seton Hall University: "Developing a digital mapping platform to identify supply chain net- work structure, evolution and performance"
Burcak Ozludil Altin and Augustus Wendell, College of Architecture and Design at New Jersey Institute of Technology: "Life of an Insane Asylum: A Temporospatial Simulation"
Rick Hale and Aaron Hershkowitz, Classics, Rutgers–New Brunswick: "Shedding Some Light: 3D Imaging and Coin Collections"
Hudson McFann, Geography, Rutgers–New Brunswick: "Rebuilding Khao I Dang"
Marlene Hyacinth Gaynair, History, Rutgers–New Brunswick: "Islands in the North: Making Space and Place in Black Toronto"
Kristin O'Brassill-Kulfan, History, Rutgers–New Brunswick: "The Scarlet & Black App: Digital Engagement with Slavery and Dispossession at Rutgers"
Mary Rizzo and Mi Hyun Yoon, American Studies, Rutgers–Newark: "Building the Chicory Archive of African-American Poetry"
Parking
Visitors may park in Lots 26, 30 & College Avenue Deck without permits. Rutgers faculty, staff, and students must park only in lots they are authorized to park in.