Access to the DH Lab is reserved to a custom list of netIDs; please contact us at dhlab [at] libraries.rutgers.edu to be added to the list.
Reserving the lab means that you agree to the following:
The person making the reservation is present for the lab use;
At the end of the session, lights are turned off and the lab door is locked.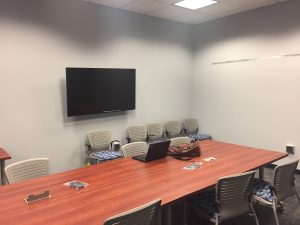 Other frequently asked questions
Q: Where is it?
A: Alexander Library, Room 406-407 (fourth floor), 169 College Avenue, New Brunswick, NJ.
Q: When is it available?
A: The lab is available during the hours of the fourth floor of Alexander. During the semester: M-Th, 9:00 am – 11:00 pm; F, 9:00 am – 8:00 pm. There's a calendar of reserved times and open lab hours to consult.
Q: Who can use it?
A: Anyone with a current Rutgers affiliation interested in doing digital research. Practically speaking, this includes Rutgers undergraduate and graduate students, faculty and staff. Undergraduate students must be supervised by a faculty member or graduate student. This person makes sure that the door is closed and locked when done.
Q: What's available there?
A: Five iMac computers wired to the Internet. Two flat screens for presentations and group work. Wifi and outlets for plugging in personal devices. Conference table and chairs. Two whiteboards. Software for multimedia editing and creation, network visualization, geospatial analysis, text markup, web scraping and more.
Q: Who works there?  
A: The DH lab does not have full-time staff. The digital humanities librarian (Francesca Giannetti, francesca.giannetti [at] rutgers.edu) can assist with project consultations and basic training in many digital humanities methods and applications. Other librarians, archivists and technicians may be consulted on an ad hoc basis.
Q: What do people do in the lab?
A: The space is useful for initial consultations, project work, research group meetings, and smaller lectures, workshops, and classes. The lab has a capacity of 18 that may be expanded to 25 as needed.
Q: Is there any online help for the self-starter? 
A: We've put together a curated list of tutorials (created by prominent DHers) for some of the specialized software available in the lab at https://libguides.rutgers.edu/dh-lab. There's also a digital humanities research guide at https://libguides.rutgers.edu/digital_humanities that provides an excellent orientation to the field.
Q: How can I reserve it?
A: Email us at dhlab [at] libraries.rutgers.edu. If you are new to our community, you will be added to the DH Lab Access List, which will allow you to use your Rutgers ID card at the card readers by the door.
Q: How can I provide feedback?
A: We want to ensure that the DH Lab is a productive environment for all digital humanists on campus. To that end, please feel free to share comments, suggest improvements, or report difficulties to us at dhlab [at] libraries.rutgers.edu or directly to Francesca at francesca.giannetti [at] rutgers.edu.