This is a selection of digital humanities projects at Rutgers, including the work of faculty and students across several academic departments, the libraries, as well as colleagues at other institutions. New and existing projects will be added in the coming months.
Jewish Agriculturalism in the Garden State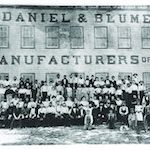 This exhibit explores mostly unknown chapters of the Jewish past – the striking story of large-scale farming life on four continents. Nearly forgotten in recent decades, organized agricultural settlement was a key part of the modern Jewish experience in the modern world. In fact, Jewish rural life has spanned the globe from the mid-nineteenth century until today. If people have heard anything at all about Jewish farming, their knowledge is usually limited to the agricultural "miracle" achieved in modern Israel, where the desert has been made to bloom. This "miracle" did not grow alone. Rather, agricultural development in the Land of Israel grew from a much larger story that encompassed hundreds of thousands of Jewish farmers on millions of acres spread around the world. The online exhibit explore s the Jewish farming past in the Americas, Europe and in Israel. It examines the amazing story of Jewish agriculture in New Jersey, where three generations of Jews struck roots in a new country, made New Jersey bloom and began their journeys into the American dream, and looks at exciting new initiatives in Jewish farming sprouting up around the country.
A Directory of Digital Scholarship in Music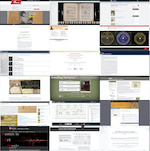 On this website, users may browse or search an open-source bibliography of specialized digital resources and born-digital scholarship in music. Contributions were crowdsourced from several professional organizations, including the Music Library Association, the Society for Ethnomusicology, the Music Encoding Initiative, the American Musicological Society, and the International Society for Music Information Retrieval. Curated sections on collections and exhibits, editions, reference works, open data, software, and a "laboratories" or miscellaneous category provide entry points into the world of music digital humanities, loosely interpreted. The entries in this directory were compiled over a period of three years: 2018-2021.
Personal Correspondence of the War Service Bureau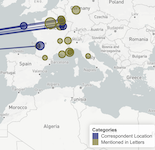 The War Service Bureau edition is an ongoing pedagogical project to teach digital editing with the Text Encoding Initiative (TEI) markup. Selected correspondence from the Records of the Rutgers College War Service Bureau has been edited and encoded by students of Rutgers–New Brunswick and Rutgers Future Scholars. Editorial tooltips, displayed by hovering over underlined text, provide contextual information about people, places, and events. Biographical notes and interactive correspondence maps supply additional details about Rutgers alumni serving in the Great War.
Johannes of Oppido Facsimile Edition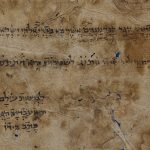 Johannes of Oppido = Obadiah the Proselyte = עבדיה הגר was a Catholic monk who converted to Judaism in the year 1102 C.E. Everything that we know about this remarkable person derives from documents found in the Cairo Geniza. This facsimile edition reunites manuscripts housed today in five locations together with translations and transcriptions. Professor Gary Rendsburg of the department of Jewish Studies directs the project. Read more…
Peter Still Digital Edition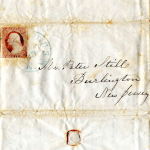 This documentary edition of the Peter Still papers is a lightly edited reconstruction of a manuscript collection held in Special Collections and University Archives, Rutgers University Libraries. These letters chronicle the efforts of Peter Still (1801-1868), a former slave, to purchase the freedom of his wife and three children. The aim of the editorial project is to produce a reading edition of the texts to facilitate further research by students and scholars of American history. Francesca Giannetti directs the project with the assistance of graduate and undergraduate researchers. Read more…
History Workshop: Immigration Case Files and Stories of Restriction and Deportation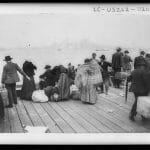 Known by their nickname, "the 56,000 series," the National Archives' Immigration Policy and Correspondence files document the interrogations, investigations, and appeal processes that the Immigration and Naturalization Service (INS) used to determine whether an immigrant was eligible to enter or remain in the United States. These memoranda, correspondence, and legal briefs, many of which have remained unexamined by researchers since their creation, offer unique insights into the United States' attempts to regulate and restrict immigration during the early twentieth century (1906-1931). During the Spring 2018 semester, students in Professor Andy Urban's History Workshop class were each assigned an INS case file from these records. The resulting online exhibit highlights students' analysis and conclusions from this exercise. Read more…
A Spatial History of Nineteenth-Century American Meteorological Infrastructure
This project, led by Jamie Pietruska (History), is a spatial history of weather reporting stations in the nineteenth-century United States.  Its purpose is to visualize the origins and development of the meteorological knowledge infrastructures that were the foundation of what would become the first national weather service in the United States, on which we still rely today.  Histories of science and institutional histories have traditionally focused on the creation of the first government weather service, administered by the U.S. Army Signal Service beginning in 1870, as a defining moment in the history of American meteorology and part of the new administrative capacity of the American state after the Civil War.  This project uses digital mapping tools to visualize an earlier spatial history of weather observation stations that revises this standard interpretation and reveals to what extent the government weather service is embedded in a longer historical trajectory of overlapping and intersecting networks of weather observers.
Turning to Stone: Interacting with the first 200 years of New Jersey's Geological Past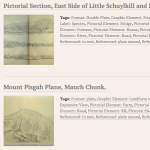 "Turning to Stone" is a digital humanities project that documents and analyzes the use of geological images in America between 1750 and 1860. During this period geologists and other earth scientists created a 'visual language' through their use of maps, sections, diagrams and views to help them better understand and describe the data and theories produced through research done in the field, the lab and at the drafting board. These images provide an window onto geology during its formative years but also preserve an imprint of the lesser known assistants and technicians—the artists, engravers, lithographers, printers, colorists—and other 'citizen scientists' who contributed to the foundational documents of publicly funded science in the United States. AJ Blandford (History, Ph.D. candidate), principal investigator.
Reputations in the Regions: American Newspapers and Literary Geography, 1865-1915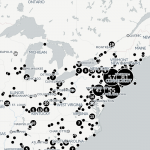 This ongoing project, conducted by Alex Leslie (English, Ph.D. candidate), uses quantitative analysis to compare how authors were referenced differently in different locations across the postbellum United States in millions of pages of newspapers. By evaluating the impact of region on the circulation and reception of literary figures, it aims to map a cultural geography of readership in the period.
Krueger-Scott African-American Oral History Collection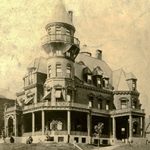 In the late 1990's, the Krueger-Scott Cultural Center undertook an ambitious oral history project that conducted over 100 interviews with African American Newarkers who had migrated to the city between 1910-1970, as well as those whose local roots spanned generations. The project—led by KSCC Director Catherine Lenix-Hooker and project coordinator Mageline Little, with the assistance of historians Giles R. Wright II, Clement Alexander Price and the collective wisdom of volunteers from Bethany Baptist Church—generated a collection of narratives that offer a rich, nuanced understanding of Newark's history. Thanks to the efforts of the Rutgers University Libraries and faculty and graduate students from Rutgers University-Newark, including Tim Raphael (Center for Migration and the Global City), Dr. Samantha Boardman and Krista White (Digital Humanities Librarian at RU-N), the Krueger-Scott Oral History Collection is now publicly available online. Explore the collection…
Newest Americans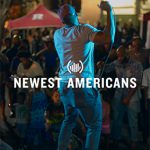 The Newest Americans is a Rutgers-Newark, multimedia research project spearheaded by Tim Raphael, Director of the Center for Migration and the Global City (CMGC). The project focuses on the immigrant experiences of people living and working in New Jersey, with an emphasis on Newark as the hub of convergence for various narratives undertaken by project researchers. "Unlike research projects that typically present findings in a single medium, like a research paper, The Newest Americans will present information through multiple channels. These media include videos, performances, photographs, essays, and oral histories to effectively resonate with members of its wide and diverse audience who use these media, and have varying levels of English proficiency," wrote Jade McClain in an announcement about the first issue. Rutgers-Newark faculty and students from programs in the Department of Arts, Culture and Media work with members of VII, a group of world-renowned videographers and photojournalists to create compelling stories about their experiences and the experiences of their friends and relatives in today's United States. Read more…
Invisible Restraints: Life and Labor at Seabrook Farms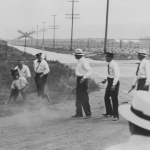 Curated by Rutgers undergraduate and graduate students under the supervision of Professor Andy Urban, this project explores the history of Seabrook Farms, a frozen-foods and canning agribusiness in southern New Jersey. During its heyday in the 1940s and 1950s, the company employed more than 6,000 laborers. Seabrook was transformed during the Second World War, when it became the largest recipient of Japanese American and immigrant detainees from internment camps who, after receiving security clearance from the federal government, were eligible to participate in supervised release programs. At Seabrook, Japanese Americans worked alongside migrants from the U.S. South, contracted guestworkers from the British West Indies, German POWs, and, after the war, Japanese Peruvians and displaced persons from Eastern Europe. Read more…
The Book of Ben Sira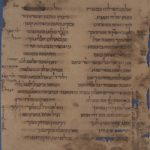 This website brings together, into a single platform, the complete textual documentation of the ancient Hebrew book of Ben Sira (known also as Sirach and as Ecclesiasticus), composed c. 180 B.C.E. The manuscripts were found at Qumran, at Masada, and in the Cairo Geniza, and are today located in Cambridge, Oxford, London, Paris, New York, Los Angeles, and Jerusalem. In two cases, folios from the same manuscript are housed in two different libraries; while in two other cases, folios from the same manuscript are housed in three different libraries! This website digitally reunites the various documents, allowing the user at long last 'to turn the page' of each manuscript, without visiting the different libraries located in different countries. Each page is presented with high-resolution digital image, transcription, and translation. Principal investigator: Gary Rendsburg (Jewish Studies). Read more…
A Medieval Hebrew Manuscript of the Mishna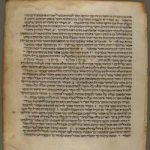 This website presents to scholars of rabbinic literature and ancient Hebrew literature more generally one of the most important (albeit incomplete) manuscripts of the Mishna, the earliest and most foundational rabbinic text, compiled c. 200 C.E. The manuscript was written in the 12th century in Italy, and is housed in the Library of the Jewish Theological Seminary of American in New York. The manuscript was never published, however, so that scholars wishing to consult this precious document needed to travel to New York. The website now allows Hebraists around the world to inspect the manuscript with the click of a mouse, through its 32 pages (16 folios, obverse and reverse). Each page is presented with high-resolution digital image and transcription. Principal investigator: Gary Rendsburg (Jewish Studies). Read more…
Mapping New Brunswick Memories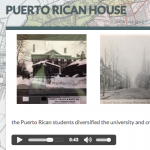 The Mapping New Brunswick Memories Project is a collaboration between Rutgers undergraduate students, George Street Playhouse, and community members from New Brunswick, New Jersey. Using oral histories that were conducted as part of the George Street Playhouse's "Our Town Now" project, this website contains five virtual tours that connect individuals' memories to sites across the city. Collaborators include Andy Urban (American Studies), Chris Rzigalinski (American Studies and Media Culture), Jim Jack (George Street Playhouse), Francesca Giannetti (Rutgers University Libraries), and the undergraduate students enrolled in Urban's and Rzigalinki's seminar courses.
Signs@40: Feminist Scholarship through Four Decades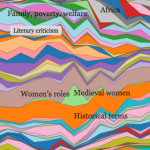 To celebrate the fortieth year of Signs: Journal of Women in Culture and Society, this project uses digital techniques to explore the journal's archive, the changes in the journal's content over time, and its role in shaping the field of Women's, Gender, and Feminist Studies. Edited by Andrew Mazzaschi (Ph.D., WGS, and deputy editor of Signs); co-edited by Mary Hawkesworth (WGS), Signs journal editor, and Andrew Goldstone (English), Signs digital humanities fellow. Read more…
The Badian Roman Coins Collection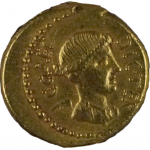 The Roman Coins portal is a collaborative effort led by Corey Brennan (Classics) and Ron Jantz (University Libraries) to bring fully into the digital realm Rutgers' Ernst Badian Collection of Roman Republican Coins, and to contextualize its 1200+ items in such a way that a broad section of the public can readily understand general patterns of development in Roman money in its first 250 years and to study the many individual objects for this period that hold historic, economic or artistic interest. The coins, with their rich multidimensional images and metadata incorporating the notes of Badian will be used in courses in classics, history, art history and economics, enabling students and faculty to contribute stories that will build a rich corpus of numismatic scholarship. Read more…
Chinese Exclusion in New Jersey: Immigration Law in the Past and Present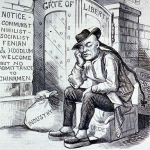 This exhibit represents the culmination of a semester-long exploration led by Andy Urban (American Studies) into the role that immigration laws and policies have played—and continue to play—in shaping the United States as a nation. Focusing on the period of Chinese exclusion that lasted from 1882 to 1943, students conducted original research using files from the National Archives in New York, in order to examine how exclusion affected the Chinese community in New Jersey. Read more…
The Afranaph Project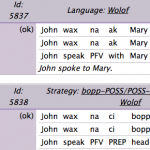 The main goal of the Afranaph Project, led by Ken Safir (Linguistics), as it is presently constituted, is to develop rich descriptions of a wide range of African languages in order to serve the interests of linguistic research into the nature and distribution of empirical patterns in natural language. The first project of our website, and still the one that is the mainstay of our research, has been to explore the distribution of anaphoric morphology and interpretation, but recent initiatives to expand the role of our empirical investigations to other sorts of linguistic phenomena have resulted in sister projects, autonomous, but linked to Afranaph in spirit, by infrastructure, and with respect to a common database. The latest stage of our funding is for the expansion of our sister projects and to develop new ones, while integrating access to all the data collected by the sister projects, both language internally and crosslinguistically. Read more…
Center for Women's Global Leadership Poster Collection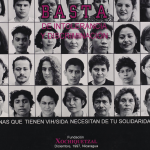 The Margery Somers Foster Center, Rutgers University Libraries, headed by Kayo Denda, in collaboration with the Department of Women's and Gender Studies and the Center for Women's Global Leadership (CWGL), have developed the Poster Collection portal, which provides digitized access to approximately 300 posters published by women's rights organizations worldwide and housed at CWGL. The posters chronicle 20 years of transnational women's activism and advocacy, while documenting evolving issues of the global women's movement. Read more…
Quiet Transformations: A Topic Model of Literary Studies Journals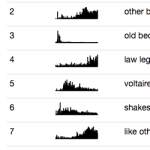 An interactive exploration of the history of literary study, by Andrew Goldstone (Rutgers English) and Ted Underwood (University of Illinois). This website represents a model that divides 21,367 scholarly articles from the 1889–2013 period into 150 "topics" (families of words that tend to occur together), allowing us to study the evolution of themes and discourses over time in the whole corpus or to focus in on individual articles. Read more…