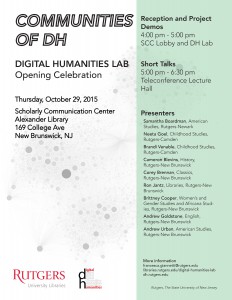 On October 29th, the libraries will host a reception and series of short lectures marking the official launch of an interdisciplinary Digital Humanities Lab in Alexander Library. From 4:00 – 5:00 pm, a reception and project demos will be held in the lobby of the Scholarly Communication Center and the DH Lab. Demos will highlight some the digital projects to be discussed in the latter half of the event, from 5:00 – 6:30 pm in the Teleconference Lecture Hall. Presenters will include graduate students and faculty from the departments of American Studies, Childhood Studies, Classics, English, History, Women's and Gender Studies, as well as the Libraries, in Camden, Newark and New Brunswick. Presentations will touch upon the theme of community building in DH.
The Digital Humanities Initiative (DHI) and the libraries' Digital Humanities Working Group launched a collaborative DH Lab in Alexander Library, Room 406-407, in summer of 2015 with the support of the School of Arts and Sciences and the Rutgers University Libraries. This space is available to members of the Rutgers DH community for use in project consultations, teaching, workshops and lectures. More information is available at http://www.libraries.rutgers.edu/digital-humanities-lab.
Digital Humanities is "an array of convergent practices" enveloping print and digital cultures that has had a long history at Rutgers.* From the Center for Electronic Texts in the Humanities (CETH), formed in the 1990s to support literary and linguistic computing, to today's loose constellation of digital scholars, active within the Digital Humanities Initiative, the Digital Studies Center in Camden, the Mid-Atlantic Regional Center for the Humanities, the Rutgers University Libraries, and elsewhere, our students, staff and faculty have been engaging with the theories and practices of digital scholarship for decades.
Some of the projects to be highlighted during the demos and brief talks include the Badian Roman Coins Portal, a virtual edition of the journal Signs called Signs@40: Feminist Scholarship Through Four Decades, a spatial humanities project called Geographies of the Post, and a public history project on immigrant experiences called Newest Americans.
---
* Digital Humanities Manifesto 2.0. 2009. Web. 21 September 2015. <http://www.humanitiesblast.com/manifesto/Manifesto_V2.pdf>.