Friday, March 7, 1:00–3:00 p.m.
Location: Alexander Library, Room 406 (SCC Seminar Room)
169 College Ave., New Brunswick, NJ (map)
Coffee, Tea, and Snacks
Call for Proposals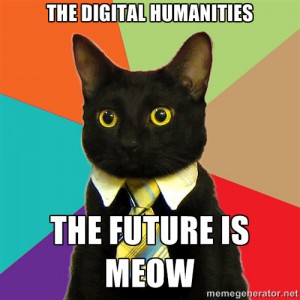 The Rutgers Digital Humanities Initiative invites graduate students currently engaged in digital humanities work, or who are interested in entering this field, to participate in a hands-on workshop on how DH skills might be acquired, further honed, and deployed. Building on the DH Showcase that took place in January, this workshop is open to all students involved in graduate work, and will aim to promote DH skills that have specific application to MA and PhD students preparing to transition into careers inside and outside of academia, where these skills will be of use.
While the workshop will be tailored to respond to student needs and interests, we anticipate addressing the following themes and subjects:
DH as a Teaching Tool
DH and Navigating the Job Market
DH and Research Methodologies
DH and Community and Public Engagement
Michael Gavin, an Assistant Professor of English at the University of South Carolina, will be on hand to work with graduate students, as will faculty members and DH practitioners from Rutgers willing to share advice and expertise. Dr. Gavin received his PhD in English from Rutgers in 2010. He is the editor of a digital collection of Restoration and eighteenth-century playbooks called The Stockton Axson Collection of 18th Century British Drama, and is currently working on digital simulations of early modern print culture.
To apply
Please submit a question (or series of questions) that you would like to have addressed as part of the workshop, a brief statement (no more than 250 words) outlining your involvement and interest in the digital humanities, and a CV or resume, by no later than Monday, Feb. 24, 2014. Materials should be sent to Andy Urban, Assistant Professor of American Studies and History, at aturban@rci.rutgers.edu.
Graduate Workshop Agenda
Grad DH Workshop – Questions and Agenda
 Remote Access Instructions
To view this event remotely
Access the Rutgers Sakai site portal:
https://sakai.rutgers.edu/portal
>Log in with your Netid and password
>Enter the Digital Humanities tab (if you can't locate this tab, email vkamath88@gmail.com)
>Then on the left hand menu column (starting with 'Home'), go down and find the option titled 'Digital Humanities A' and click through it.
You'll be led to a page that currently says at the top "There is no meeting currently selected for use in this site." When our event goes live, you'll see a meeting link in place of this. Simply click through and you'll be connected to our live-stream. We'll be using 'Adobe Connect' for those familiar with the UI. You'll be able to hear and see the entire round-table discussion live, and any comments/questions you have can be typed in a chat box feature which everyone will be able to see.