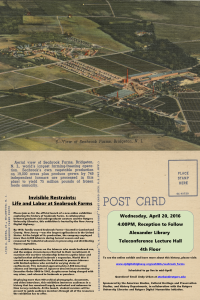 All are welcome to join the official launch of a digital exhibit on Seabrook Farms at 4:00 pm on Wednesday, April 20, 2016, in the Teleconference Lecture Hall, Alexander Library. A reception will follow.
Invisible Restraints: Life and Labor at Seabrook Farms, which will be hosted by the New Jersey Digital Highway, is a product of the collaborative work of graduate and undergraduate students enrolled in Prof. Andrew Urban's course, "Public Histories of Detention and Mass Incarceration."
By the 1950s, family-owned Seabrook Farms—located in Cumberland County, New Jersey and founded in 1913—was the largest agribusiness in the United States. At the height of its production, the company employed more than 6000 laborers and was famous for its frozen foods.
Invisible Restraints: Life and Labor at Seabrook Farms explores the site's layered histories, in particular, the wartime relationship between captive labor and capitalism that defined Seabrook. World War II created new opportunities for Seabrook to procure laborers with limited options who existed in varying states of confinement. This included approximately 2500 American citizens and immigrants of Japanese descent incarcerated by Executive Order 9066 and considered national security threats due to their ancestry, despite never being charged with any crime.
To visit the online exhibit and learn more about this history, please go to www.njdigitalhighway.org/exhibits/seabrook_farms. The site is scheduled to go live in mid-April.